Heart Talk: An evening of openness, vulnerability, love, and hope
On Monday, I attended the BookPeople book launch for artist and poet Cleo Wade's Heart Talk, which released in the first week of March. I subscribe to BookPeople's email list, and was excited that a person I follow on Instagram was coming to my town. I was so excited I didn't even realize this would take place during the tenth SXSW in this city since I moved to Texas.
In addition to hearing Cleo speak, she was joined by her friend, Elaine Welteroth, who many of us know as the first African American Editor-in-Chief at Teen Vogue, helping reshape the magazine into one that covered women's rights and the rights of those frequently marginalized. She also holds the other barrier-breaking title of the youngest editor Condé Nast has ever seen.
Many people showed up early and secured good seats, and I was one of those people. It's probably the earliest I've ever shown up for anything, coming in at about 90 minutes before the event was scheduled to begin. Immediately, the others who came in, mostly women and women of color at that, started talking to each other and complimenting each other. One woman, named Fontaine, helped set the friendly tone. She was visiting from DC, and she spoke to everyone around her. Her friendly nature opened up the rest of us. Kalissa and I spoke about how she's a second year design students and feels like she had to choose a track. I told her I was a designer, too, and was told to do the same, and advised her to stay open. Berdanette was someone I was already following on Instagram. We were cracking jokes, sharing our interest in the conversation coming towards us, and sharing where we purchased our coats on this windy, cloudy day. A man I met, wearing a full-sleeve shirt designed with graphics and words from Solange's Seat at the table brought gcopies of activity books based on some of her lyrics as a gift to both the speakers we were about to see. A open-minded father accompanied his teenage daughter, and I watched his expression go from happy to experience this with his daughter to completely in awe that his daughter and him got to share the energy of the room and the two women.
They came down the stairs, and popped out from behind the curtains. We all waved and smiled, ready for the Instagram stories and boomerangs that we knew Elaine would be capturing. We nudged each other to gasp in unison at Cleo's shiny heels. We adored that they both wore black berets with their hair down; they were put together and laid back in their own skin, and we felt it, too.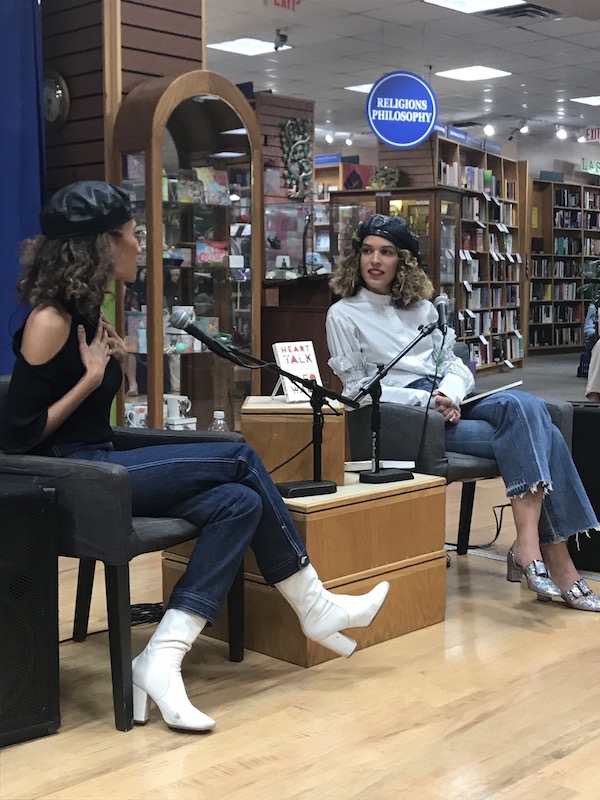 Cleo shared a poem titled "I think about love". Then, they spoke about self love and self intimacy, the latter being vulnerable enough with yourself to be honest and open to yourself. They spoke about the energy we put out in the world, listening to the whispers the world gives in return. They spoke about creating habits and rituals for that self care, and then the same habits and rituals for creating that for others. They encouraged us to allow ourselves to dream and to take the time to do so, even if its for a minute a day. They emphasized giving, not taking away, without the expectation of something in return. It was meta in way, as they kept giving us so much throughout the evening.
BookPeople let them speak for twice as long as they originally intended. They opened up their conversation to us, their audience, and questions came pouring out of all of us, myself included. Everyone felt gratitude. Us for the ability to ask questions and get advice. And we felt their gratitude, as they fully committed to be present and there for us. I told them about taking a sabbatical, and how necessary it was. How I made a very set schedule for each of my four months off with a monthly theme on things I focused on. They encouraged me to write a book. They gave everyone at least two hugs and were gracious and patient as all of us took photos and boomerangs with them (after all, Elaine is the queen of Boomerangs).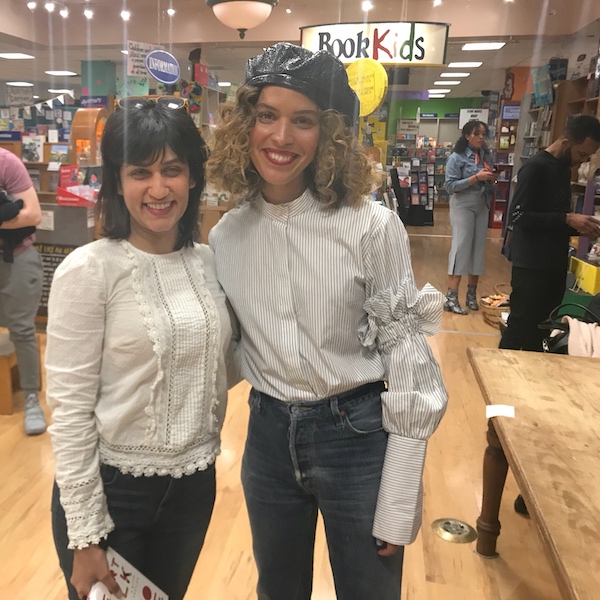 Cleo and I at the book signing.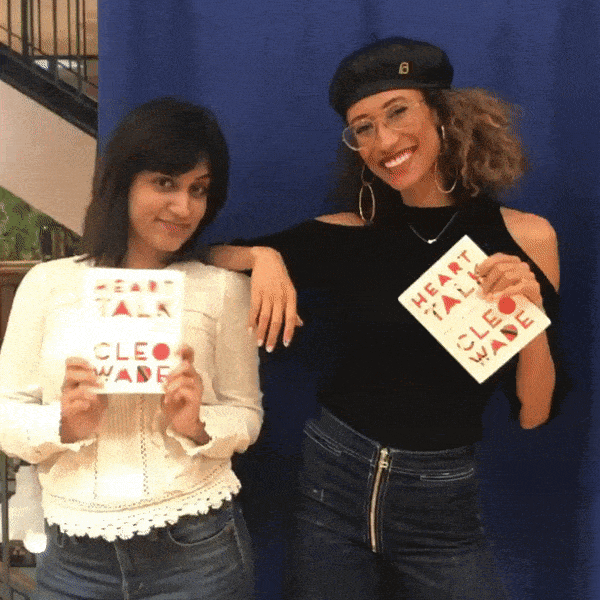 Making Heart Talk Boomerangs with Elaine.
Their words and Cleo's book have sat with me for the last 48 hours. As I traveled to work staring out of the commuter train I love to be on, spoke with clients, had lunch with my colleagues, met up with my friends for music showcases, spoke to my loved ones, and in my time alone, things they said and things they didn't stayed with me. And I clutched it like the bag of things I take everyday. But it wasn't baggage. It was a toolkit and reminder. A reminder to live intently and to interact with other intently stored in a toolkit of openness, vulnerability, love, and hope to use.
Be the reason someone realizes how simple it is to be nice.

— from Cleo's book, in Heart Talk, page 111.
On a day like today, when thousands of students across the US are walking out of schools in favor of safer schools, the idea of giving and living intently speaks volumes. These children and teenagers are giving us hope and teaching us, perhaps more than we can teach them. They are marching with openness and vulnerability channeling and giving us love and hope. We should listen intently, because they're giving intently. With that, here is Cleo's TED talk from 2017, that I just watched, and is so aptly called "Want to change the world? Start by being brave enough to care".